Hi, Welcome to Ranjan Gupta's Homepage
---
Hello Surfer! This is how I look: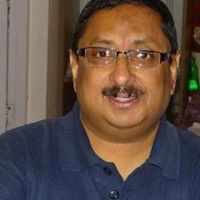 My research interests are as follows:
Astronomical Instrumentation
Stellar Physics
Interstellar Dust and Extinction and its modeling
Neural Networks
My mailing address etc:
Prof. Ranjan Gupta
IUCAA
Post Bag 4
Ganeshkhind
PUNE-411007 (India)
Phone Direct Office: +91-20-25604111
Phone: Via operator: +91-20-25604100 ask for extension 111
Fax: +91-20-25604699
URL: http://web.iucaa.in/~rag
e-mail: rag AT iucaa.in
Back to IUCAA page
---
Please mail me!
Last Updated: 16 April, 2019
---
Click HERE to obtain a PDF file of my publications list.
---
Click HERE To see my Google Scholar Citation list
---