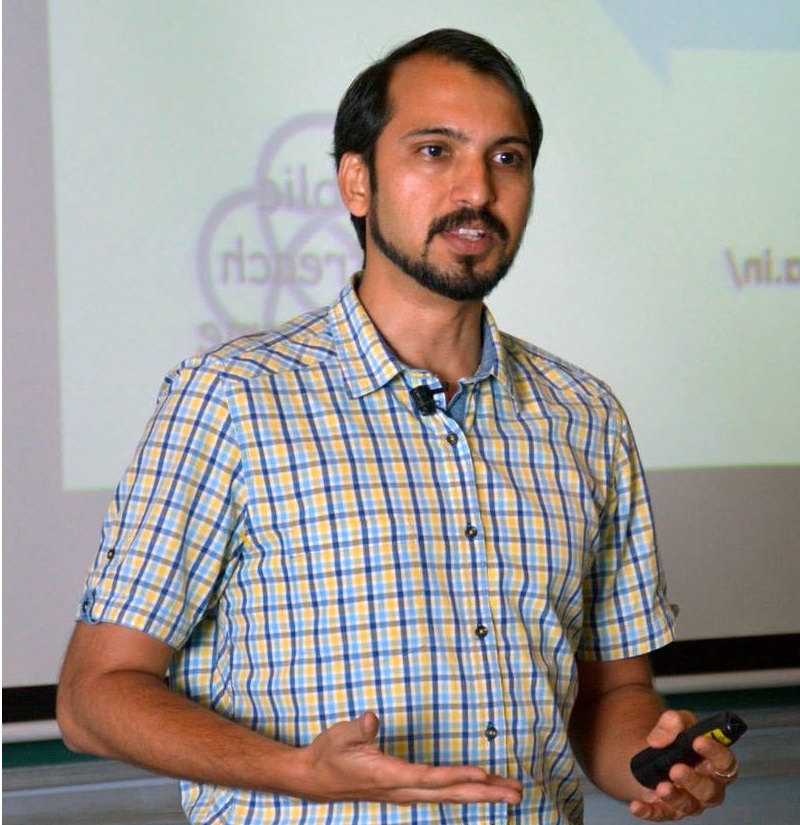 Samir Dhurde - Résumé
Award-winning, passionate and creative, Science & Astronomy communicator, with sixteen years of experience in efficiently managing teams for education and public outreach (EPO) activities, at various capacities in India and internationally. Also has experience in public and media communication, partnership building, fund raising and Astrophysics research.
CLICK HERE TO DOWNLOAD A DETAILED, UPDATED CURRICULUM VITAE PDF FILE
Education
Master of Science (Physics)
2014
University of Pune, India
Thesis - GMRT observations of 4C35.06: Possibility of precessing jets from a cD Galaxy.
Bachelor of Science (Physics major)
2001
Fergusson College, Pune, India
Astronomy and Astrophysics special paper
Skills
Software
OS: Windows, Linux, Mac
Google Workspace
Adobe Creative Suite, Inkscape
OBS, Shotcut, Premiere
Wordpress, Joomla, Drupal, HTML5, CSS
Zoom, Meet, Teams, Hopin
Languages
(fluent)
English
Hindi
Marathi
Bengali
Other interests
Gardening
Cooking
Cycling
Photography
Music
Environmental activism
Professional Experience
Scientific Officer - Public Outreach
2005 - Present
IUCAA, Pune
Lead "IUCAA SciPOP" - one of the most effective outreach efforts in an Indian research institute, with a team of staff and interns selected & trained by me.
Arrange inspiring interactions with ~25,000 visitors every year, at our hands-on, Science & Astronomy Exploration Centre (Muktangan Vidnyan Shodhika).
Lead resource production, publications, as well as online and social media outreach related to astronomy and related megaprojects hosted at IUCAA.
Run rural outreach and educator training programmes in the vicinity of astronomical observatory sites in the state of Maharashtra.
Execute outreach events across the country, tying up with various schools, colleges, universities, amateur astronomy groups and NGOs.
Represent IUCAA in various national and international EPO organisations & events, working to establish and maintain connections between the various stakeholders.
Major Affiliations
Thirty Meter Telescope (TMT)
2013 - Current
Outreach coordinator & member representative from India to the Thirty Meter Telescope (TMT) international observatory's Workforce, Education, Public Outreach and Communications (WEPOC) advisory board
Astronomical Society of India
2014 - Current
Founder Member and ex-Secretary of the Public Outreach & Education Committee of the Astronomical Society of India (ASI-POEC)
Indian Space Research Organisation (ISRO)
2015 - Current
Member of the Training and Outreach Team (TOT) of the Indian Space Research Organisation (ISRO)
LIGO India
2016 - Current
Founder Member and Convenor of the LIGO India EPO committee
International Astronomical Union (IAU)
2011 - 2018
Deputy National Outreach Coordinator (NOC) for India
2018 - Current
Associate member and National Outreach Coordinator (NOC) for India